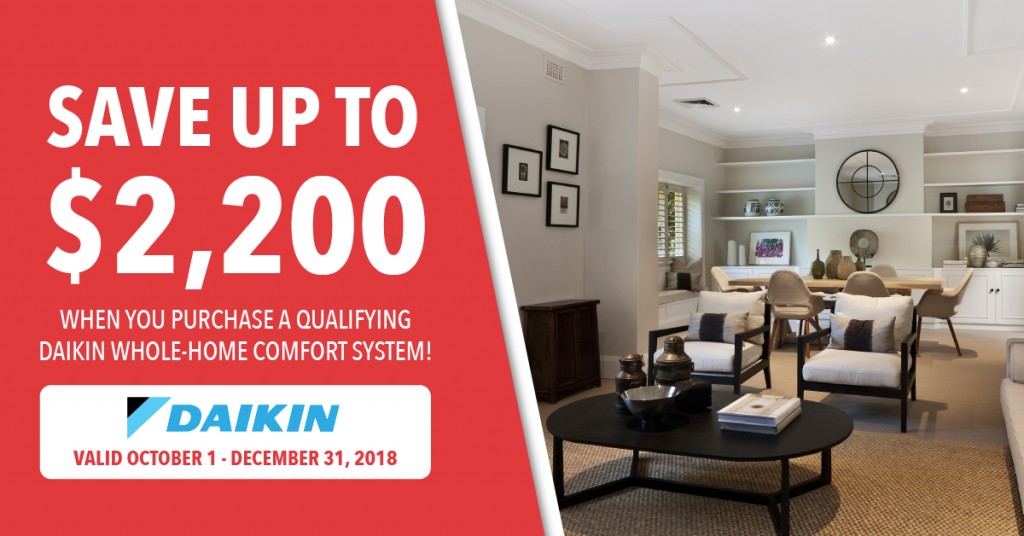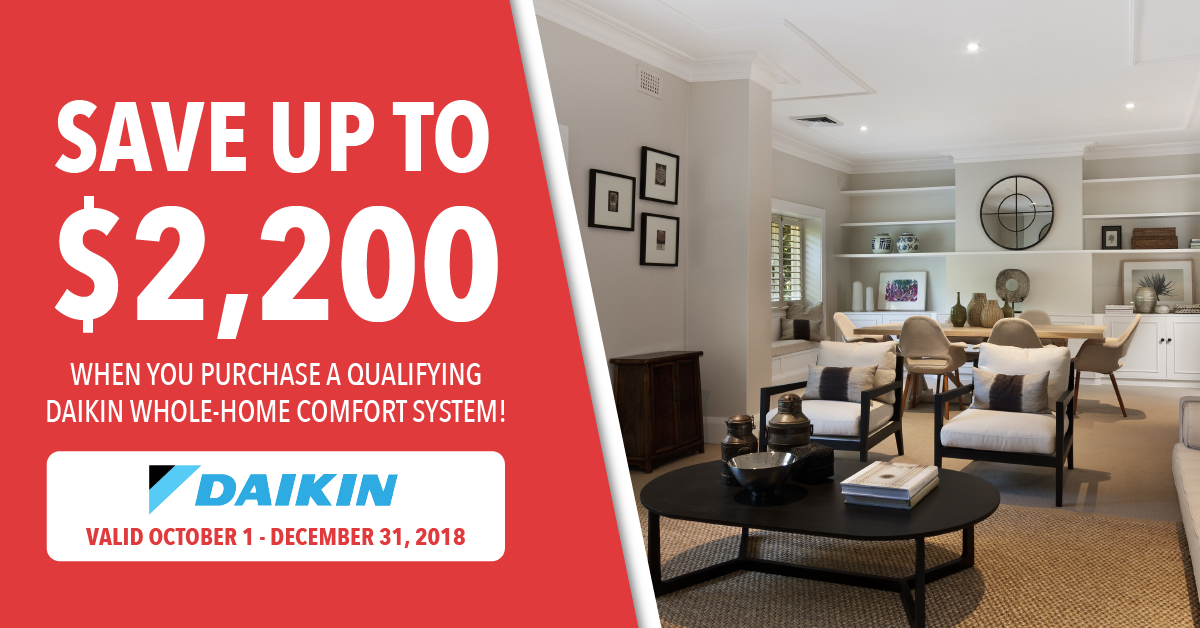 Fall is in the air and everyone in the Kitchener-Waterloo area is getting ready for a cold winter, but you can stay cozy all year-round with our Daikin Fall Promotion. Don't miss this opportunity to rake in HUGE savings on a new whole-home comfort system this autumn.
Between October 1, 2018 and December 31, 2018,
you can save up to $1,200 in instant savings on a qualifying
Daikin whole-home comfort system!
Plus, save an additional $1,000 in Union Gas rebates for a total of $2,200 in savings!
Purchases must be completed by December 31, 2018
and installations must be made by January 15, 2019.
Delta Air Systems is proud to carry, service and install a wide range of Daikin products. Daikin is a world leader in home comfort systems and has become the largest manufacturer of heating, ventilation and air conditioning (HVAC) units in the world. We're proud to meet Daikin's high standards and criteria to be a certified Daikin Comfort Pro and that's why Delta Air Systems is the go-to Daikin dealer in the Kitchener-Waterloo area.
The Daikin Difference
When you take advantage of our Daikin Fall Promotion for your heating and cooling system upgrade, you're backed by an industry leading warranty. With up to a 12-Year Parts Limited Warranty and up to a 6-Year Unit Replacement Limited Warranty, you can rest easy knowing your home and comfort is protected. Browse Delta's selection of Daikin's home comfort systems including air conditioners and furnaces.
Contact us to learn more about our promotion
or to request a FREE quote.
Delta Air Systems has been providing quality heating and cooling service to the Waterloo, Kitchener, Guelph and Cambridge areas since the 1950s.
Connect with us on Facebook and Twitter to keep up-to-date
with HVAC tips and our latest promotions.