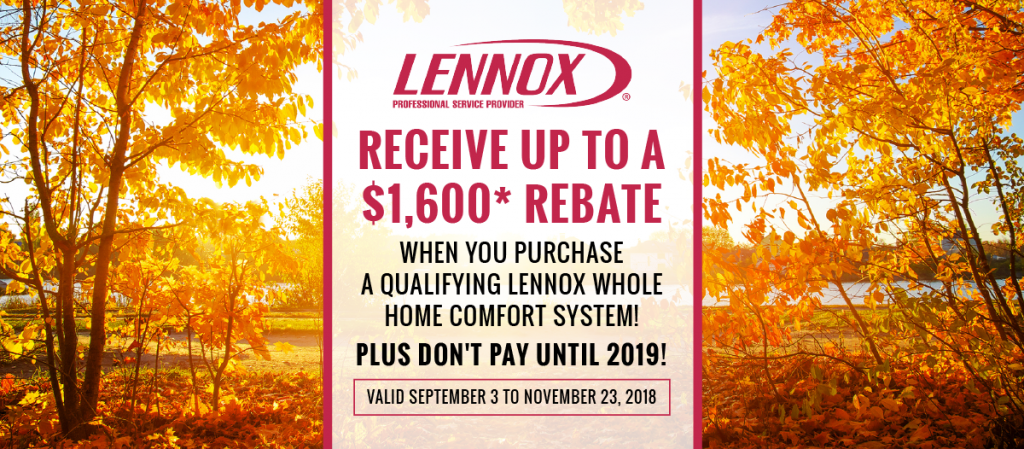 Saying goodbye to summer doesn't have to be a bad thing with the return
of our popular fall Lennox promotion!
Between September 3, 2018 and November 23, 2018,
you can SAVE up to $1600 with instant rebates
on a complete Lennox whole-home comfort system!
Rebate Breakdown:
$1,250 savings on a qualifying Lennox Ultimate Comfort System
$150 savings on iComfort S30
$100 savings on PureAir S
$100 savings on iHarmony
The Lennox Ultimate Comfort System™ creates an environment of perfectly heated and cooled air with Precise Comfort™ Technology.
The PureAir whole-home air purification system cleans the air you and your family breathe every day. It specifically targets the three most common indoor air pollutants: airborne particles, germs and bacteria, and chemical odours and vapours. This system helps ensure your indoor air is healthy all year long.
iHarmony and iComfort increase comfort by seamlessly integrating with a Lennox whole-home comfort system. The Lennox iHarmony zoning system maintains a steady temperature in every room of your home. You can even set different temperatures in different parts of the home, depending on your specific needs. The iComfort S30 thermostat is your convenient connection to ultimate comfort control.
Delta Air Systems is proud to be a Dave Lennox Premier Dealer. We're committed to professionalism, stability and providing excellent service. To maintain our Premier Dealer status, we participate in an Independent Customer Satisfaction Survey and must continually meet Lennox's high standard for customer satisfaction and performance.
Our team of certified home comfort specialists is ready to install your new home comfort system and maintain it for years to come!
Contact us to take advantage our fall Lennox promotion, but hurry,
this promotion only lasts until November 23, 2018!
Delta Air Systems has been installing and servicing heating and cooling systems in the Kitchener-Waterloo, Cambridge and Guelph areas for over 50 Years. We're dedicated to quality customer service.
Be sure to follow us on Facebook and Twitter so you can stay up to date with our promotions
and enjoy even more home comfort savings!