The Daikin Fit is a newer product that provides superior home comfort. It's a smart system that connects to traditional ductwork and delivers consistent cooling by reducing temperature fluctuations. This variable capacity system optimizes the latest in best compressor technology, saving you money while maximizing indoor comfort with ultimate temperature and humidity control.
Here are some of the most frequently asked questions about the Daikin Fit:
Is it really that much smaller?
Yes. The Fit is an extremely slim unit that is drastically smaller than cube-style condensers. It's perfect for small spaces such as zero-lot lines or patios.
How loud is the unit?
In addition to its smaller size, the Daikin Fit is also quieter than its cube-style counterparts. When running, the Fit is about as loud as a quiet conversation. This means that you can still enjoy your outdoor space when it's on.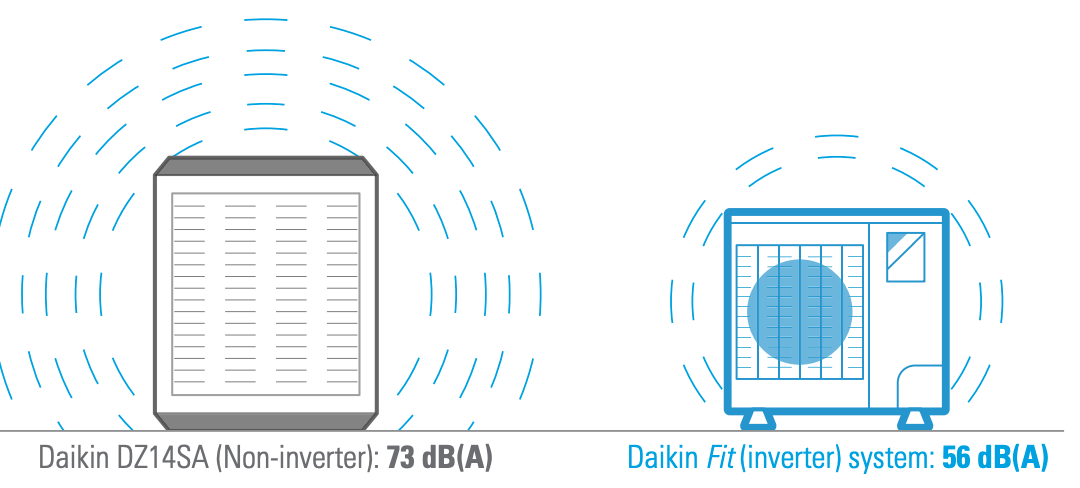 Is it efficient?
This new system has an inverter (variable-speed) compressor that increases its efficiency, while also having up to an 18 SEER (Seasonal Energy Efficiency Ratio) rating.
Is it compatible with the new Daikin One+ thermostat?
The Fit is compatible with the One+, the first smart thermostat to offer full two-way communications with Daikin HVAC systems.
The Daikin Fit is a great option for homeowners that are looking to upgrade their comfort this summer.
If you're interested in learning more about the Daikin Fit system,
don't hesitate to contact one of our sales representatives.
Delta Air Systems has been providing quality AC service to Waterloo, Kitchener, Guelph and Cambridge since the 1950s. We have the experience and expertise to help keep your home comfortable season after season.

Did you know we're on
Facebook, Twitter and Instagram?

Connect with us for additional tips and information on our latest promotions.