Furnace Installation Experts in the Kitchener-Waterloo, Cambridge, Guelph Areas for 65+ Years!
As Canadians, we're familiar with the importance of a good furnace during the harshness of the winter months. If it's time for you to book furnace installation for your home, it really helps to know a few key things including when to buy and who to trust with your installation. Let the experts at Delta Air Systems help you through the process with the information below!
Furnace Installation By The Experts 
Arguably the most important part of furnace installation is trusting the right home comfort company to help you through the process of selecting a new furnace and bringing it home. This can be a difficult task if you're not an HVAC technician yourself, but luckily, the experts at Delta are always ready to help. 
If you're in the Kitchener-Waterloo area and you're looking for a reliable company to provide you with furnace installation, look no further than Delta. For over 65 years, Delta has been providing the Kitchener-Waterloo area with expert furnace service and installation with phenomenal upfront prices that leave our customers feeling great! When it comes to furnace installation, trust the experts.
Delta is a proud distributor of both Daikin and Lennox, Canada's leading home comfort system manufacturers. We offer only the highest quality HVAC systems to ensure that our customers are always satisfied with their furnace installation.
Why A New Furnace? 
There are several reasons why you may be interested in a new furnace, as everyone's home comfort needs are different, there isn't just one universal reason that you and your family could benefit from a new furnace installation. A new furnace could benefit you in one or all of these ways depending on what you're looking for in a home comfort system: 
Provide more even and consistent heating 

Run quieter 

Lower your carbon footprint

Lower your monthly energy bill

Lower repair and maintenance costs
When To Repair Or Replace Your Heating System
At Delta, we understand that a new furnace can be a large investment, and we often want to get the most out of our current furnace before installing a new one. If you're wondering if you should attempt to repair your current furnace or call for the installation of a new one, there are several tell-tale signs that it may be time to replace. 
A new furnace may be the best choice for you if: 
Your current furnace is requiring more maintenance and repairs than it used to 

Your current furnace is over ten years old

You notice that your energy bills are becoming more and more expensive 

You're interested in being more environmentally friendly 

You've noticed hot and cold areas or uneven heating throughout your home 

Your current furnace is circulating between on and off without cause 

Your current furnace is releasing cold air 

Your current furnace is making unusual noises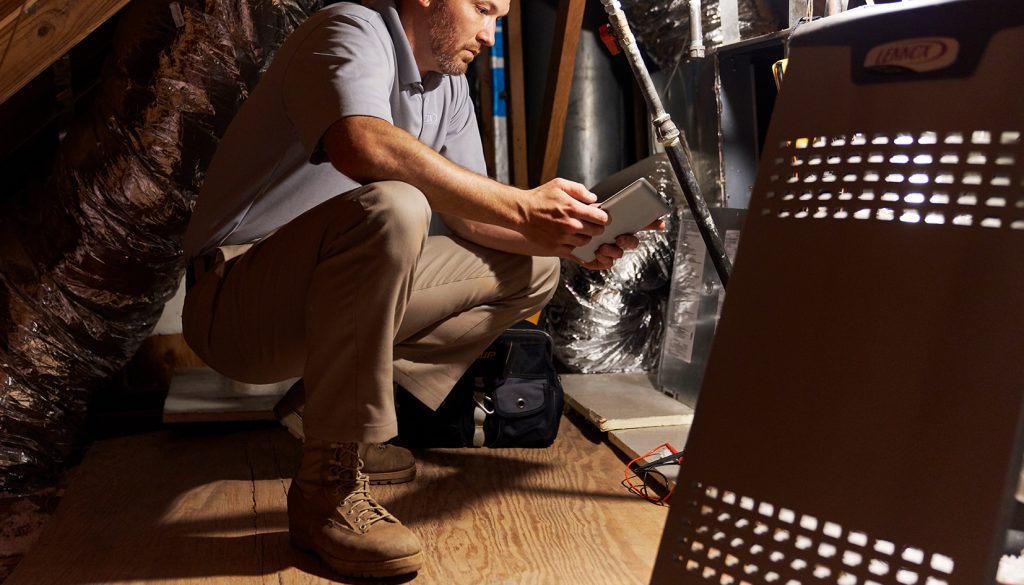 Save On Heating Costs With An Energy Efficient Furnace 
Standard-efficiency furnaces convert roughly 80% of the energy from gas into heat.  High-efficiency furnaces convert 90-97% (depending on the model) of the energy from gas into heat.  So basically: high-efficiency furnaces use less fuel.
If your furnace efficiency is below 90%, it's useful to know how much you can lower your heating costs to determine if you should replace your furnace right away or if you could wait. You'll want to determine if you can save enough money in fuel costs to justify replacing the upgrade.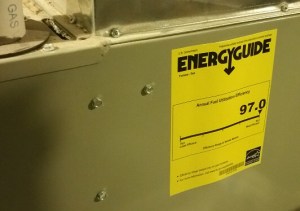 Start with your yearly gas bill to figure out much how much you're paying for the natural gas used to heat your hot water for the whole year.

Most people use about the same amount of hot water for showering, dish washing, and washing clothes all year round, so you need to figure out how much natural gas you use monthly to heat water.

Look up your bill for a warm weather month when you were home with the furnace off but not frequently using a natural gas barbeque.

Take that monthly amount and multiply it by 12 to get your yearly cost to heat water.

Then subtract your water heating costs from what you paid over the year for natural gas.

Take your resulting number and multiply it by your furnace efficiency. It's usually listed on the side of your furnace (or boiler). Turn it into a decimal. If your furnace it 83% efficient, it would be .83.

That number you have is the absolute minimum cost for a fuel-fired appliance (for example natural gas or propane) if it were 100% efficient.

You can then reuse the formula with your new furnace options.

Use results of Step 6 to calculate your savings by replacing your furnace with each option.
Taking time to do this math can help you determine if the savings on your fuel costs are enough to upgrade your furnace.
Energy-efficient furnaces are more durable and reliable than older models, require less maintenance and repair, and can be very budget-friendly. At Delta, we strive to provide our customers with affordable and efficient furnace installation to make the most out of their home comfort.
Want to get a quote for a new heating or cooling system or worried that there's a problem with your HVAC? Complete the following form and upload pictures of your HVAC equipment and a Delta Home Comfort Advisor will follow up with you asap.