Delta Air Systems is an exclusive dealer and certified service partner for Montigo Fireplaces.
Inspired by architects, guided by builders, manufactured to perfection. Montigo Fireplaces bring quality, beauty, and warmth to your environment.
Why Choose Montigo?
With decades of manufacturing excellence, collaborative relationships with architects and designers, and an instinctive drive to lead the
fireplace revolution, Montigo delivers the perfect fireplace to suit your style.
Innovative design, handcrafted with care, unique to each installation. From private luxury homes, to hotels, casinos, restaurants, and other public spaces, a fire feature is the heart of every warm and inviting space.
No other manufacturer has had such a consistent and dramatic impact on design trends. Many of the innovations taken for granted in the market today were originally developed by the commercial fireplace engineering team at Montigo.
Residential Fireplaces
However you define the look and feel of home, Montigo has the fireplace to suit your space.
A gorgeous eye catching flame directly beneath your television in your Great Room? – Explore the Distinction with Cool Wall technology
Want a welcoming see through divider between your indoor and outdoor living spaces? – The R324STIO will warm you up in your living room under the stars
Or are you seeking to indulge in the ultimate extravagance with a fireplace that takes your breath away, no screen, just fire? – Look no further than our Prodigy series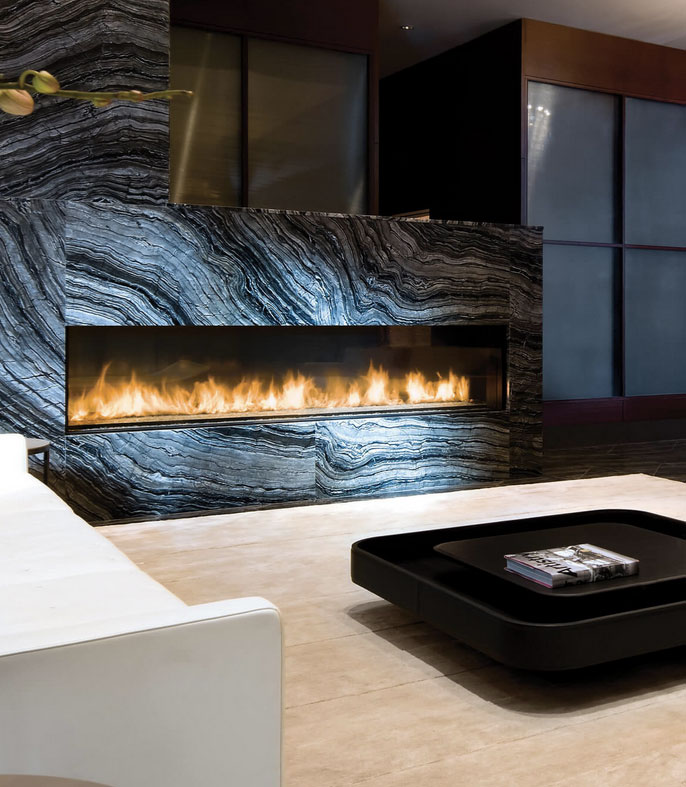 Commercial Fireplaces
Designing a commercial space? Custom design, custom made, unique to each installation. From hotels to restaurants, and other public spaces, a fire feature is the heart of every warm and inviting space. Special requirements, unforeseen challenges, 24/7 commercial use – no project is too complex.
Designing a residential space? Working with you and your clients, Montigo's team will assist you in finding a fireplace perfectly suited to the space while taking into account the desire for low impact screen visibility, integration to home automation systems, flush terminations, heat distribution and more.